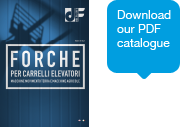 Quality Control


Delta Effe guarantees the quality of its fork production through a series of tools and procedures tested over years of experience in the field of steel hot working for various industrial sectors.

The attention to the quality of the finished products concerns the entire fork manufacturing cycle, as well as the complementary services of pre- and post-sale customer service, and is based on a well-established system including regulations, internal business processes and product and customer care. In particular, Delta Effe follows and pursues specific steps that ensure the manufacturing of safe and performing forks which meet the highest standards required by the market. First, the company only uses very high quality raw materials coming from certified and renowned throughout Europe steelworks; it is constantly engaged in the continuing training of the specialized staff responsible for checking and testing the forks; the production plants are checked at regular intervals and serviced or replaced with advanced technologies; an external metallurgical laboratory monitors both the performance of the production plants and the compliance of the executed processes at regular and constant intervals.

Delta Effe also scrupulously observes UNI ISO 2330 and UNI ISO 2328 regulations as required by international rules and has the necessary equipment to carry out stress, performance and crack detecting tests, indispensable to obtain the approval of each fork.

Finally, in the firm belief that the overall quality of the production is not determined only by compliance with the current rules or by adhering to strict internal protocols - which are also made daily - Delta Effe is constantly engaged in the research and development of innovative solutions increasingly matching the specific needs of each customer in order to provide a pre-sale consultancy and post-sale assistance service which can fully satisfy the customer.

The quality of the forks produced by Delta Effe is therefore one hundred per cent guaranteed by an integrated mix of innate and ever-growing fondness for the sector, full compliance with the international regulations and the company procedures, and a unique and bespoke service aiming at the full attention and care of the customer.