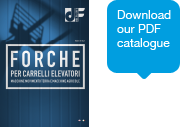 Production
Nowadays, the production of Delta Effe spreads over a 5,000 square meters covered area, located at the headquarters in Bedizzole (BS), where the entire manufacturing cycle of the forks and the forged takes place. All the products developed and marketed by Delta Effe are therefore entirely made in Italy, manufactured and tested in-house.

The production facility is made up of multiple production and machining lines, and has been specifically designed by Delta Effe to have an efficient, diversified and advanced system able to compete and excel in an ever-changing market. The computerized and up-to-date equipment, the traditional machinery and highly skilled and qualified staff are complementary and equally decisive factors in a really effective, powerful and dynamic production process.

The company only uses steel and raw materials of certified quality, coming from steelworks approved and guaranteed by international top fork manufacturers.
Delta Effe produces forks of all types: standard, special, forged, for lift trucks, for large capacities and earthmoving forks, as well as forks according to design to suit specific needs and applications. All forks are always produced in full compliance with UNI ISO 2328 and UNI ISO 2330 regulations, which set the international criteria for the approval of each fork. The company also has the necessary equipment to carry out the technical tests required to check and test the produced items, which are tested by an external metallurgical laboratory at regular intervals, which also monitors the quality control procedures carried out in-house.

Delta Effe's fork manufacturing department is divided into five sections:
• Section 1: a warehouse for the storage of raw materials, with wide availability of the different sections, which can satisfy any request;
• Section 2: a line for the production of standard forks;
• Section 3: a line for the production of forged special forks and steel forging;
• Section 4: finishing, testing and quality control: all operations are carried out by qualified staff with over ten-year experience in the prototyping field;
• Section 5: a warehouse of the finished product with over 4,000 forks available in various sizes, which always guarantees a prompt delivery.